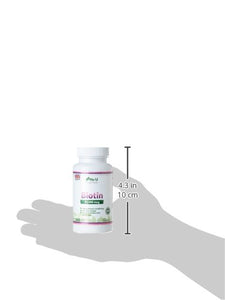 Biotin Hair Growth Supplement, 365 Tablets (Full Year Supply) Biotin 10,000MCG by Nu U Nutrition
Sale price
$22.00
Regular price
$33.00
Brand: Nu U Nutrition
Features:
✔ 12 MONTHS FULL SUPPLY - Our incredible 365 biotin tablets pack gives incredible VALUE keeping you replenished with Biotin for a FULL YEAR. No need to remember to reorder every month with FULL 52 week supply.
✔ MAXIMUM POTENCY VITAMIN B7 - Our 10,000mcg Premium Strength Biotin Supplements (Vitamin B7) are market leading in strength and effectiveness.
✔ ONE PER DAY - One easy to swallow tablet a day to give you all the benefits of our maximum strength Biotin supplement. The tablets are small enough for anyone to swallow with the minimum of fuss.
✔ TOTAL PEACE OF MIND WITH OUR UK PRODUCED PRODUCT. Many Biotin products have been imported from other countries, from Asia to the US. Ours are made RIGHT HERE in the UK so you are safeguarded by the highest standards in the world. It is FREE from artificial colours and flavours and is SUITABLE for vegetarians.
Publisher: NU U Nutrition
Details: Nu U Biotin Maximum Strength Formula
We always offer market leading formulations. Our Biotin is 10,000mcg, twice the strength of many competing brands.
It doesn't stop there.
We also give amazing value with a FULL year supply - 365 tablets!
Don't forget our no questions asked money back guarantee. The risk is on us!
Why Choose Nu U Biotin Supplement?
* 100% MONEY BACK GUARANTEE- No questions asked, feel the benefit or your money back
* ADVANCED FORMULA- Our Biotin is a full 10,000mcg per tablet, twice the strength of many competitors.
* EASY TO SWALLOW- Our Biotin tablets are compact and designed to be easy to swallow.
* FULL 12 MONTH SUPPLY- Amazing value, no need to reorder for a full YEAR!
* VEGETARIAN FRIENDLY & NASTIES FREE- Suitable for vegetarians & free from artificial colours, flavours, sweeteners, starch, milk, lactose, soya, gluten, wheat, & yeast.
* UK PRODUCED- UK produced to the highest manufacturing standards in the world.
WARNING: For some people a high dose of Biotin can effect Thyroid readings in certain tests, always disclose any supplements you are taking to a Medical professional before taking medical tests. Vitamin B7 can cause a rash or spots in some people, this is harmless but if it continues stop using the supplement and contact us for a refund.
UPC: 600686911449
EAN: 0600686911449
---
Share this Product
---
More from this collection